Extragalactic astronomy & cosmology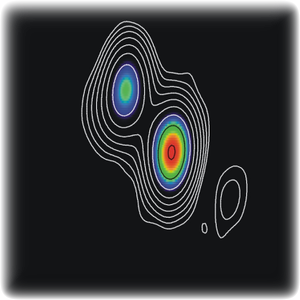 ACTIVE GALAXIES
One of the reasons why active galaxies, i.e. galaxies with active galactic nuclei (AGN), stand out from the whole population of galaxies is that they produce not only visible light, but also other electromagnetic radiation like radio waves or X-rays. Here, at the Institute of Astronomy, active galaxies are explored in both these domains using arrays of radio telescopes (VLBA, EVN, MERLIN, GMRT, and LOFAR), and the X-ray telescope Chandra.
---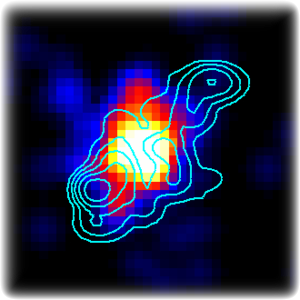 GALAXIES WITH SHORT PERIODS OF RADIO ACTIVITY
Active Galactic Nuclei (AGN) are for decades the subject of very intense research. As a result, we have today a well-established model of AGN activity. According to it, there is a supermassive black hole in the center of each active galaxy. Matter falling toward the black hole forms an accretion disk around it, where due to process of friction and turbulence loses the angular momentum emitting radiation in the optical, ultraviolet and X-rays. However, despite that intensive studies, active galaxies continue to conceal many mysteries. We do not know for example why only a small portion of them (15-20%) is active in the radio range of the electromagnetic spectrum.
---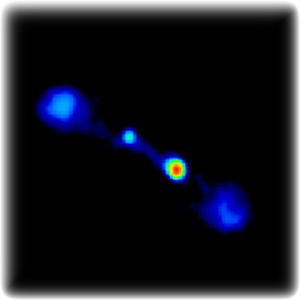 GALAXIES WITH RECURRENT ACTIVITY

Approximately, every tenth galaxy is active. A question that naturally arises is whether activity or lack of it is a permanent feature of a given galaxy or transitions between active and inactive state are possible. In other words, can activity of a galaxy cease or can it be initiated in an inactive galaxy?
---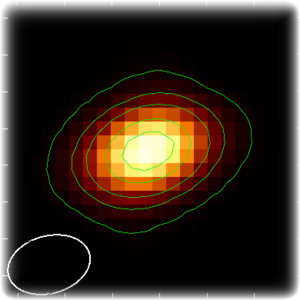 GALAXIES AT LOW RADIO FREQUENCIES – LOFAR OBSERVATIONS
LOFAR (LOw Frequency ARray) is a new network of radio telescopes operating in the low frequency range (30-240MHz). Last year, 3 stations of this network were launched in Poland. LOFAR is a unique instrument for both sensitivity and resolving power, which allows the study of the evolution of massive black holes, galaxies and galaxy clusters. In particular, it allows us to observe extensive radio lobes around active objects and the surrounding intergalactic space.
---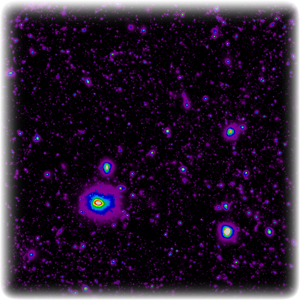 COSMOLOGY
Observational cosmology combines the use of telescopes to observe the Universe (galaxies, clusters of galaxies, the cosmic web, the cosmic microwave background) on length scales ranging from megaparsecs to about twenty gigaparsecs, and the use of numerical and analytical theoretical tools to understand these observations within the context of Einstein's relativistic model of spacetime. The Institute of Astronomy cosmology group is involved in this fundamental research in several ways.
---